FEMALE HAIR TRANSPLANT TURKEY
We offer patients a top-notch service experience and treatment by a qualified medical team in our own internationally accredited private clinic in Istanbul, Turkey.
Consultation and Aftercare services are available at London, U.K. and Madrid, Spain.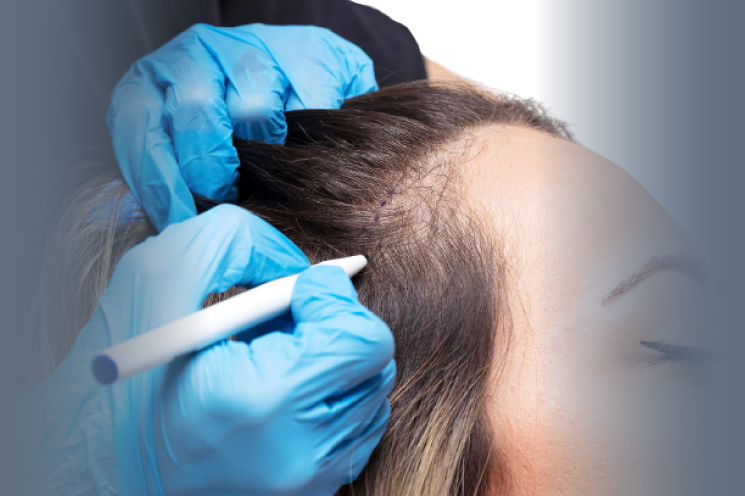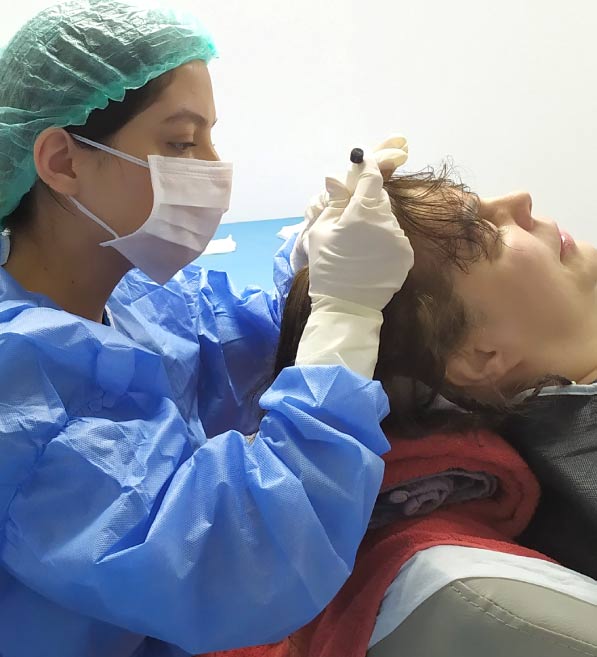 Hair Transplant for Women
Contrary to public belief, balding and thinning does not only occur in men, and female hair loss is a frequent phenomenon too. As one of the best countries for female hair transplants, Turkey hosts and offers remedies for thousands of women from all over the world.
The high quality of medical technologies for hair transplant, experienced medical team and talented doctors, and affordable female hair transplant costs in Turkey have made this country an unbeatable destination for hair restoration for women. At the Alana Hair Clinic, one of the best hair clinics in Turkey, we provide all the surgical and nonsurgical hair restorations methods.
Female hair transplant procedure is similar to men's hair restoration treatments, however, the reasons for the hair loss in women are different from men.
Genetic problems, mineral deficiencies, lifestyle, and specific illnesses such as hormonal disorders can cause hair loss in women. Because of this, quick action is so important and helpful to prevent serious illnesses and health problems.
Unfortunately, not every hair loss reason in females makes them eligible for a hair transplant. If you are eligible for a hair transplant, your hair follicles will be extracted from the donor area and implanted on the recipient area. This process can be applied through different methods and technologies.
At the Alana Hair Clinic in Turkey, we offer FUE, Sapphire FUE, or DHI (unshaven method) techniques for female hair transplantation. These methods cause the least damage and provide the most natural look for hair transplantation. Our doctors will advice you about the best method based on your personal condition.
How Is Female Hair Transplant Performed?
Step 1

:
Preoperative Consultation:

Step 2 :


Local Anesthesia

Step 3 :


Hair Graft Extraction:

Step 4:


Implantation

Step 5:


After Operation
Step 1
:
Preoperative Consultation:
You will have an online consultation with your doctor before your arrival to Istanbul, and, on the day of the hair transplant operation, you will have a face-to-face visit with your doctor before the process starts. Based on the scale of your donor and recipient areas, your hair type, and your other specific conditions, the doctor will recommend the best hair transplantation method to suit your needs, then your new hairline will be designed on your recipient area.

Step 2 :
Local Anesthesia
In this step, local anaesthesia will be applied on the scalp. After a while, your scalp tissue will be totally numb and you will not feel any pain during your hair implantation.

Step 3 :
Hair Graft Extraction:
In Female Hair Transplant, we use the FUE (Follicular Unit Extraction) method for transplanting the grafts from the donor area. In this technique, each hair graft is extracted from the donor area one by one. This method causes the least damage on the donor area and the micro scars are not visible with naked eyes.
Based on your personal condition, female hair implantation phase will be applied in one of the following methods:
FUE hair transplant: In this method, the doctors will open micro canals on the recipient area with a steel blade. then each graft will be placed into the channel with great precision.
In the Sapphire FUE Method, doctors use the extra thin sapphire blades to have a less invasive operation and a more dense natural look on the recipient area.
If you are eligible for unshaven hair implantation, the doctor will use the DHI (Direct Hair Implantation) method. In this technique, each graft will be injected into the recipient area directly with the Choi pen.
Two days after your hair implantation, you will have a check-up session with your doctor. Once we make sure everything is going well with your new hair grafts, the doctor will wash your hair with stimulating shampoo to enhance the process of recovery. You will also have the after operation kit including all the necessary medicines and shampoos for your hair implantation recovery.

Female Hair Transplant Recovery Time
Female hair implantation is a mild operation that allows patients to easily get back to their routine life after one day. But to get the best results, it is important to pay special attention to your routine habits and diet. The main recovery period is the first two weeks. The implanted grafts are getting more steady, and a correct sleeping position should be considered seriously. After your first hair wash in the Alana Clinic you will be able to wash your hair regularly by small tapping.
Avoiding any exercises or heavy activities in the first week can accelerate the healing time. Three to four weeks after the hair implantation, a shock loss will happen. In this period hairs will shed, but after that, they will start to grow again.
Depending on the hair type, women will see the final result of their hair transplant in 6 to 12 months.
Who is a good candidate for Female Hair Transplant?
In General, only a few types of hair loss in women can get a hair transplant. Hair transplant for women is mostly recommended for ladies who:
The Reason of Hair Loss Women
Female-Pattern Baldness: the most common genetic disorder for hair loss in women is Androgenetic Alopecia. You may inherit the genes from either your mother or your father's side.
Iron deficiency or anemia: Iron's role in the body is to deliver oxygen to the organs. Once there is iron deficiency in the body, there will not be enough oxygen delivered to the hair follicles, which causes hair loss.
Vitamin B12 deficiency: Vitamin B12 enhances the production of red cells. Lack of vitamin B12 disorders red cells production, so body can not deliver sufficient oxygen to the hair follicles. This problem will damage the follicles and as a result hair loss can happen.
Heat Damage: Not standard hairstyling can damage women's hair follicles. Hair dying, hair straighteners, curlers, and dryers affects the function of hair follicles and therefore causes hair loss.
Hypothyroidism: When thyroid hormones are not in the right balance and one hormone is not sufficient, hair loss can happen as a result.
Immune system disorders like Alopecia Areata or Lupus: In these disorders, the immune system attacks the hair follicles mistakenly. This can cause hair loss in women.
Polycystic Ovarian Syndrome (PCOS): Cysts in the ovarian can affect the hormones's balance and as a result can cause hair loss.
How to Prevent Female Hair Loss?
How Much Does Female Hair Transplant Cost in Turkey?
Compared to European Countries like the UK, Hair Transplant cost for Women in Turkey is more affordable. Hair transplant price in Turkey is cheaper than other countries due to low labor costs, currency balance difference and higher number of demands.
Female Hair Transplant Turkey Package of Alana Hair Clinic includes all medical and travel services you need in Turkey. You will have VIP transfers to the airport- hotel and hotel- clinic, 4/5 star accommodation, all medical treatments, and post-op lotions and shampoos. Learn all about our All Inclusive Hair Transplant Packages now.
ADVANTAGES OF

Hair Transplant for Women
Hair plays an essential role in a human's look and self confidence, especially in women. Aesthetically a hair transplant for women can make a big change in their appearance.
Frequently Asked Questions About Hair Transplant for Women
Can women get hair transplants?
It depends on the reason for hair loss. Women's hair losses due to hormonal and immune system disorders are not eligible for hair transplants. Other reasons for hair loss can be treated with a hair transplant.
What is the success rate of female hair transplant?
It is important that the hair clinic study the hair loss reason and once you are eligible for female hair transplant, the success rate of female implants is between 90%- 95%.
Is female hair transplant safe?
Yes, as long as you have your operation in a reliable hair clinic that studies the reason for your hair loss and gives you the right treatment, it is a safe operation. In some cases you can not treat hair loss for women with hair transplants.
Does a female hair transplant leave scars?
No, Follicular unit extraction, micro canal opening, or direct hair implantations, all cause the least damage and smallest slits. After your hair transplant recovery time, all the mini scars will not be visible with naked eyes.
Is a female hair transplant permanent and worth it?
If the cause of your hair loss is not hormonal and you are eligible for a hair transplant, yes. Once the hair transplant is applied, the follicles can survive lifelong. It is important to take good care of the transplanted hair in recovery time. you need to be aware that stress, mental trauma, hair styling and chemical materials can damage the implanted hairs again.