AFRO HAIR TRANSPLANT TURKEY
We offer patients a top-notch service experience and treatment by a qualifed medical team in our own internationally accredited private clinic in Istanbul, Turkey
Consultation and Aftercare services are available at London, U.K. and Madrid, Spain.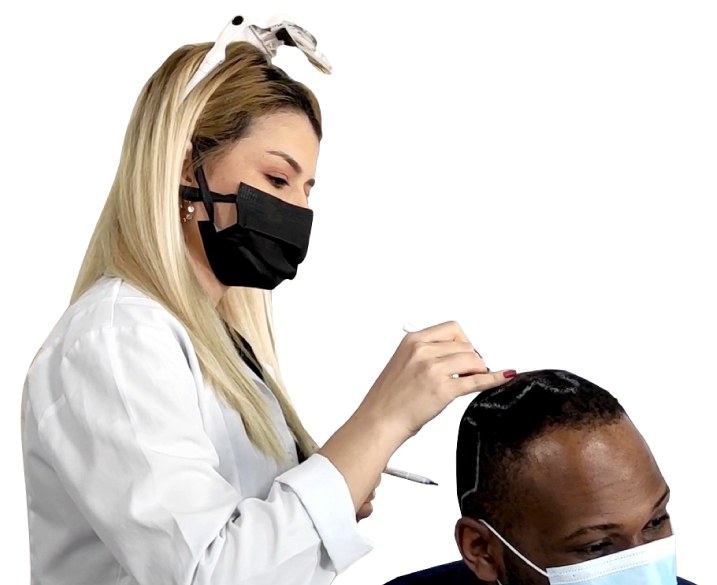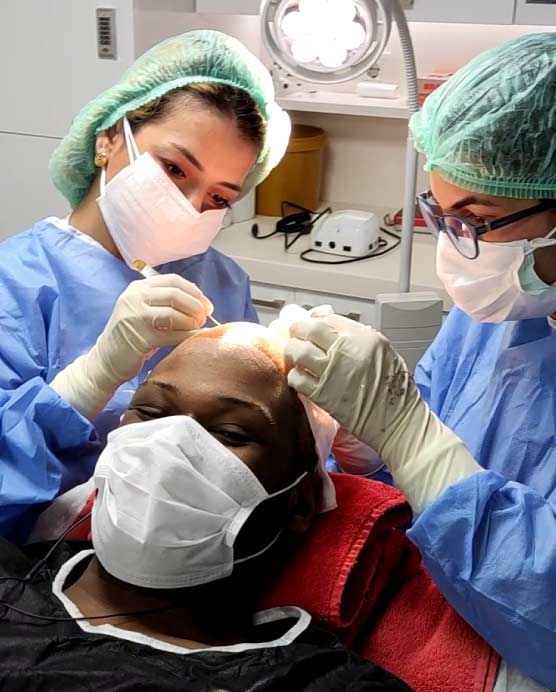 Afro Hair Transplant at Alana Hair Clinic
Similar to all hair restorations methods, Afro Hair Transplant in Turkey is growing more than before. Afro hair is known as the trickiest type for hair transplant for the medical team. Yet, Turkey, as one of the best hair transplant countries in the world, is developing all facilities and latest technologies to provide the best performance to the Afro Caribbean patients who are having a hair loss.
Due to lower costs for hair transplant in Turkey, getting a Afro Hair Transplant Turkey package not only gives you the best results, but also compared to countries like the UK, costs much less. At Alana Hair Clinic, our professional doctors with years of experience will give the most efficient performance to restore your afro hair.
The Characteristics of Afro Hair
Afro Hair, known as one of the most attractive and fashionable hair types, mostly grows on black males and females with African, Caribbean genes. Afro Hair is super coily and curly. The curves mostly start from the scalp and continue the small and tight curls to the tip of the hair. This characteristic gives a more voluminous look to the hair. Afro hair normally happens to be so dried and spongy, therefore after growing they do not bend towards down. This hair type is one of the most beautiful hair types but also very difficult for hair restoration treatment at the same time. According to the doctors, in most Afro hairs, curls continue in the roots under scalp skin, therefore the extraction of the grafts needs special attention and skill.
How is Follicular Unit Extraction Performed?
Similar to other hair transplant methods, afro hair transplant in Turkey is the process of extracting the hair grafts from the donor area and implanting them to the recipient area. However due to special characteristics of afro hair, transplants need some extra skills and attention. In general Afro Hair Implantation can last between 6 to 8 hours. At Alana Hair Clinic we proceed the Afro Hair Transplant in the following steps:
Step 1

:
Consultation and pre operation check up

Step 2 :


Local Anesthesia

Step 3 :


FUE Extraction

Step 4:


Implantation

Step 5:


After Operation
Step 1
:
Consultation and pre operation check up
Despite the online consultation before your trip to Turkey, on the day of operation, the doctors need to have a more precise look at your hair situation. Depending on your medical conditions, doctors may prefer to have some tests before the operation. You will also consult with the doctor about the new hair design and lines.
Step 2 :
Local Anesthesia
Once your test result is ready and you have decided about your hairline design, the doctor will apply local anesthesia. This step numbs your scalp and you will not feel any pain during the hair implantation.

Follicular unit extraction is the process of harvesting hair grafts from donor areas one by one by using a micro punch. In order to prevent any damage to the Afro grafts, the doctor will slow down the micro punch tool speed. In this way, doctors will be more focused on the hair grafts and therefore there will be less damages.
Once the hair grafts are collected from the donor area safely, they will be implanted into the recipient area. To do this, our doctors in Alana Hair Clinic will open the microchannels in the recipient area with steel blades. This method causes the minimum damage on the scalp and therefore accelerates the recovery time. Then each Afro hair graft will be implanted into the canals one by one.
In two days after your Afro Hair Transplant, you will have a check-up session with your doctor in Alana Hair Clinic. After we make sure that implantation is applied right, the doctor will wash your hair with mild shampoo for the first time. Our medical team will provide you with all the operation kits and instructions to increase the success chance of your Afro hair transplant.
How much Afro Hair Transplant Costs in Turkey?
The price of Afro hair transplant Turkey packages is 10 times more costworthy compared to other countries like the UK. Because in Alana Hair Clinic, we do not calculate the price according to the number of implanted grafts, once you choose the Afro hair package in Turkey, you will get the maximum number of grafts without any extra charge. Afro Hair Transplant Turkey Package covers all medical and travel services you need in Istanbul. You will have all VIP transfers to the airport- hotel and hotel- clinic, 4/5 star accommodation, all medical treatments, etc. Please click here to learn about our All Inclusive Hair Transplant Package prices.
Among all the reasons for Afro hair loss such as inappropriate diet, stress, hereditary, hormonal and immune system disorders, Traction Alopecia is a common reason. Traction Alopecia occurs as a result of applying force to the hairs by pulling them so tight. The most fashionable hairstyles for Afro Caribbean black males and females are braids, dreadlocks and cornrows. These hairstyles cause massive pressure on the hair follicles and by passing of time can affect the hair grafts badly. It is important to prevent harsh hairstyles once you start to see the receding hairlines. If you don't take immediate action, traction alopecia can be permanent and you may need to have an Afro Hair Transplant.
Who is a Good Candidate for Afro Hair Transplant in Turkey?
The eligible person for Afro Hair Transplant should:
ADVANTAGES OF

Afro Hair Transplant
Afro Hair Transplant Aftercare
Afro Hair Transplant Aftercare
Frequently Asked Questions
Does hair transplant work for afro hair?
Yes! Similar to other methods of hair transplant, if your Afro Hair loss is not happening due to hormonal or other illnesses and you are eligible for the operation you can have a successful hair restoration.
Can a black man do hair transplant?
Yes, even though the hair type is a bit different in Afro-Caribbean people, yet the hair transplant can be successfully applied to both males and females with Afro hair.
How much is an afro hair transplant in Turkey?
Hair transplant cost varies from country to country. In European countries like the UK, the price of hair implantation is calculated by the number of grafts. Afro hair transplants Turkey package cost including all medical treatments and travel services during your stay in Istanbul . Click here to see our All Inclusive Hair Transplant Package prices.
When can I get back to my country after my afro hair transplant in Turkey?
You are ready to travel back to your own country 1 day after your hair transplant. In order to have a better result you should avoid heavy activities.
Should I have a FUE or FUT method for afro hair transplant?
Due to the stitches in the FUT (Follicular Unit Transplant) method this method will leave some scars on the donor area. While FUE technique leaves only micro scars which are not visible with naked eyes.
What Is the best method for afro hair transplant in Turkey?
Since Afro Hair extraction phase is more difficult compared to other hair types, the doctor decides the best method for you based on your specific situation and hair type. At Alana Hair Clinic, we recommend the FUE method because it is less invasive and leaves no stitches. Our professional doctors will extract the grafts very precisely to minimize the damage rate of the grafts.