We offer patients a top-notch service experience and treatment by a qualified medical team in our own internationally accredited private clinic in Istanbul, Turkey.
Consultation and Aftercare services are available at London, U.K. and Madrid, Spain.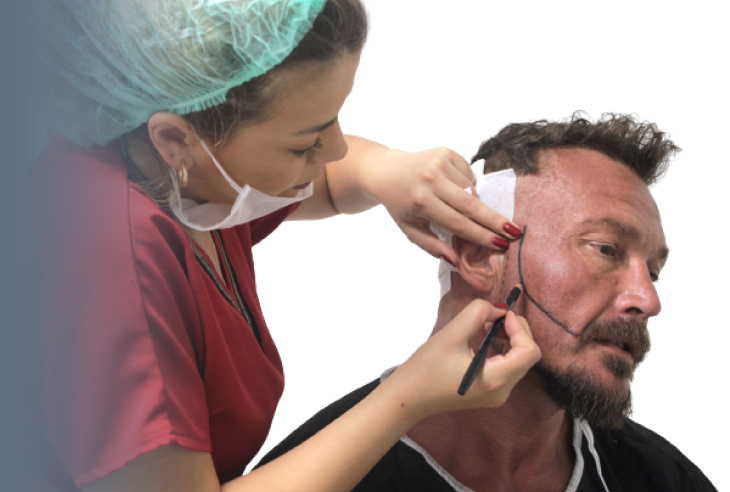 A bearded man is a known sex-appealing image in both the esthetic and fashion world. If you are looking to give a more fashionable impression, but you have a patchy and disconnected beard, this doesn't have to be a problem anymore! You can have the best beard transplant in Turkey. Beard implants is the process of restoring hairs into the hairless part of a man's face. You can find the best beard transplant clinics in Turkey which offer not only the highest quality service but also the most reasonable price.
Facial hair transplant is a delicate process, that's why in the Alana Hair Clinic we employ the best doctors with the latest techniques to make sure you will have a lifelong perfect look.
Why is Facial Hair and Beard Important?
Men with beards are one of the most popular definitions of manhood in history. Following the dominant culture of the society, sometimes long beards, short beards, and even clean-shaven faces have been a trend. With the influence of big celebrities like Brad Pit and George Clooney, facial hair, especially beards, have become a permanent trend of our time. It is clear to everyone that a smart appearance can make a big change in our social and professional life. Having enough beard can be a good advantage to change from time to time from a clean-shaven face to a long beard look.
But some reasons make us not get the desired look. Alana Hair Clinic helps you to get your best possible beard implantation and have a more satisfying life.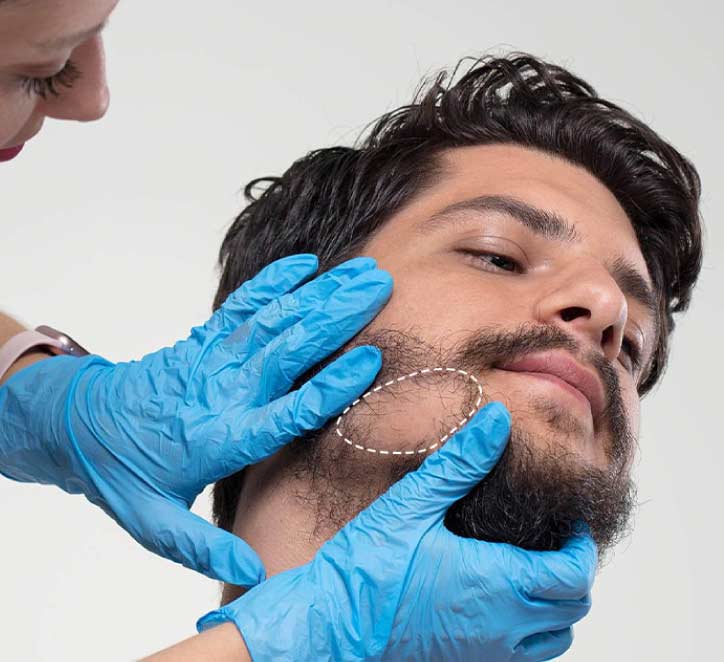 What is a Beard Transplant?
Men's facial hair's density can be patchy or spotty due to different reasons such as scars, burns, autoimmune diseases, heredity or aging.
Beard Transplant refers to the process of extracting hair grafts from the head or chin (donor area) and implanting them into different parts of the face, like the upper lip, chin, sideburns or jaw (recipient area).
Since the face is one of the most sensitive parts of the body, the best technologies are applied in beard implants. The most efficient method for beard hair transplant is the FUE Sapphire technique using very thin and anti-allergic blades. The operation lasts for about 4 to 6 hours, is totally painless and the result will be completely tangible in 6 to 12 months.
How is Beard Transplant Performed?
Step 1

:
Consultation

Step 2 :


Local Anesthesia

Step 3 :


Extraction

Step 4 :


Implantation

Step 5:


After Operation
On the operation day, we will pick you up from the hotel. In Alana Hair Clinic, the doctor will check your recipient and donor area again. We can consult you about the best esthetic design that matches your face. We want a big positive change for you, our doctors will be realistic and honest with you about the final results. Once you reach a conclusion with your doctor, you will get ready for the anesthesia phase.
Step 2 :
Local Anesthesia
In this phase, the face and donor area will be sterilized and then local anesthesia will be applied. Beard hair implantation is a 100% painless operation. Once the tissue is ready, we will get ready for the extraction phase.
In this step, doctors will use the "Follicular Unit Extraction" method for harvesting the grafts. Same like all types of hair implantations, in beard implants, the grafts are extracted from the back of the head or under the chin. Some grafts include more than one follicle, so the doctors will divide the follicles to be implanted on the face one by one. The FUE method for follicle extraction causes the least amount of invasion and scars on the donor area.
Sapphire FUE is the most preferred method for beard transplant as it causes the smallest slits and least infections. In this method, micro-canals are opened on the recipient area with super tiny sapphire blades in advance. Then each graft is implanted on the channels one by one.
Depending on your beard transplantation situation, in one or two days after your operation you will have a check up appointment with your doctor. Once our proficient medical team makes sure that the grafts are implanted and growing healthy, they will wash the recipient area with a mild stimulating shampoo to guarantee a better result.
You can have the after operation kit in Alana Hair Clinic and get the necessary instruction from the medical team.

Beard Transplantation Recovery and Aftercare:
Here's the part that your role starts! Face skin is the most sensitive part of your skin. Sapphire FUE method causes the minimum invasion and there will not be any recognizable scars or incisions.
You may temporarily face swelling, redness, and tiny crusts in some parts. Our doctors in Alana Hair Clinic will give you all the aftercare instructions. Following the instructions, your beard transplant recovery will be painless and comfortable. Even though physically you are ready to get back to your routine after one day, your face may partly look red. Social activities and exercising your facial muscles with laughing or talking can affect your recovery. We recommend you to take your time and rest for another 7 more days before you get back to your routine. You can apply ice treatment to mitigate the swelling faster in addition to the prescribed medication.
It is important to pay special attention to your sleeping position during recovery time. There should not be any pressure on your new grafts.
The last thing to consider is not to shave for two weeks after beard implantation! After two weeks you can grow a long beard or short beard.
In one month's time, the skin will be totally healed and results will be visible. However, 60% to 70% of the beard will shed and start to grow soon after again and in 6 months' time, you will have a natural beard.
Who is Eligible For a Beard Transplant in Turkey?
The extracted follicular from the donor area has different genetic information, so they can survive on every part of your face. In simple words, any man who is suffering from a lack of beard and facial hair is eligible to have a beard restoration.It is important to have a sufficient number of grafts in your donor area.
ADVANTAGES OF
Beard Transplant in Turkey
Beard Transplant Turkey Before and After
Frequently Asked Questions